Jeff "Whitey" Richardson
Jeff was drafted by the Cincinnati Reds in the 7th round of the 1986 free agent draft. In 1987 he was voted team MVP and All-Star MVP for Tampa and became the fastest player to 100 hits. In 1988 he was tabbed as the best defensive shortstop of the Southern League. Worked himself up in the minor league system with the Reds and was promoted to "The Show" in 1989. At 23 years old, Jeff was the youngest starting shortstop in the National League in 1989 when called on to replace injured All Star, MVP and Future Hall of Fame inductee Barry Larkin. He was forced to retire in 1995 due to an injury. He continued involvement in professional baseball as a manager from 1996-1998.

Jeff spent 3 years managing in the minors winning the Carolina League title in 1998. He retired in 1998 as a minor league manager to pursue a coaching position with his alma mater, Louisiana Tech University. There he held the head-coaching position for this college and helped turn the baseball program around. In 2000, he lead the Bulldogs to their first winning season since 1987. Jeff coached the team for 4 years before resigning in order to return to hometown of Grand Island, NE to manage his own business.

Favorite Professional Baseball Player: Cal Ripken Jr.

Odds & Ends:

. Jeff is one of 50 major league players to hit a home run off of a rookie pitcher that is facing their first batter.
. In 1989 the legendary Pete Rose managed him, the last year "Charlie Hustle" was allowed to be active in professional baseball. The experience not only made him a much better player but also helped prepare him for his own coaching and managing career. "Pete was very influential on my career. He taught me to pay attention to the details that made me a better player and manager."
. Known for his speed, fielding and sense of humor, he was once referenced in the March 13th, 1995 issue of Sports Illustrated.

"In media guides and on the backs of baseball cards, hitters are classified in one of three categories: L (left), R (right), or B (both). Recently, however, Pittsburgh Pirates minor league utilityman Jeff Richardson, a career .176 hitter in the majors, suggested to the club's media relations staff that it place the letter D next to his name. "As in doesn't," he explained."

Currently:

. Owns and operates BALZ Sports Bar & Grill - 3421 West State Street, Grand Island, NE. The business is well known for an awesome collection of sports memorabilia.
. Owns and operates Ruff's Bar - 311 North Walnut, Grand Island, NE.

He continues to stay involved sports that use a ball and a bat. He coaches a 12 and under traveling softball team that his daughter plays on.

Jeff is a member the Grand Island Area Chamber of Commerce and sponsors numerous softball and baseball teams in the Grand Island area. He equates managing his business to managing a baseball team in that "everybody must work together to be successful".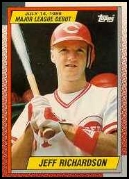 Born: August 26, 1965, Grand Island, Nebraska
Parents: Dean & Mary Ann Richardson
Married to: Jane Richardson
Children: Megan, Allie, & Katelyn

Professional Baseball Experience

1986-89 Minor League with Billings, Tampa, Vermont, Chattanooga & Nashville
1989 Major League with Cincinnati Reds
1990-92 Minor League with Buffalo Bisons
1991 Major League with Pittsburgh Pirates
1993 Major League with Boston Red Sox
1994 Minor League with Louisville
1995 Minor League with Calgary

Manager:

1996 Minor League with Erie Seawolves
1997 Minor League with Augusta Greenjackets
1998 Minor League with Lynchburg Hillcats - Carolina League Champions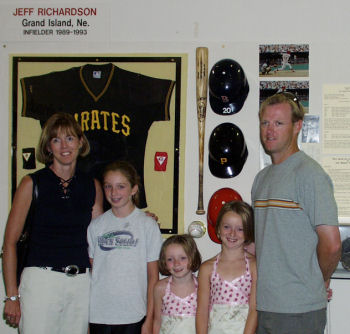 Previous Spolights

Jeff "Whitey" Richardson

Alex Gordon

Joba Chamberlain

Buddy Carlyle