Joba Chamberlain
Chamberlain grew up in Lincoln, Nebraska. Chamberlain's parents, Harlan Chamberlain and Jackie Standley, were never married and split up when Joba was 18 months old. Some sources say that Harlan obtained full custody of Joba when Joba was 3 years old, but Standley claims that Joba lived with her most of the time until Joba was 10 when she had Joba's surname legally changed from Heath, her maiden name, to Chamberlain. Standley began abusing drugs when Joba was 4 or 5 and says that she and Joba currently speak to each other only rarely.

Chamberlain's father was born on a reservation for the Winnebago American Indian Tribe, but had to leave to be treated for polio. Harlan spent his childhood in hospitals and foster homes and now uses a motor scooter (which he has named "Humphrey") to get around. Now retired from his job as a supervisor at the state penitentiary, he works as a substitute teacher and takes tickets at University of Nebraska Cornhuskers' games. Chamberlain still has family living on American Indian reservations.

When Joba (then Justin) was a little boy, his two-year-old cousin was unable to pronounce her brother (Joba's other cousin) Joshua's name correctly, pronouncing it as Joba instead. Harlan Chamberlain heard this and liked the nickname, so he began referring to Justin (instead of cousin Joshua) as Joba. Harlan said the name was "dynamic." Joba agreed, and eventually had his name legally changed.

Joba served as a ball boy and bat boy for Lincoln Northeast High School's state championship baseball team, and eventually graduated from Northeast. He did not jump straight to college; to help pay the bills, Joba briefly worked for the city of Lincoln's maintenance department.

He played American Legion baseball over the summer of 2004 for Coach Steve Eckman, going 4-4 with a 1.36 ERA, as he struck out 137 hitters and walked only 21 en route to all-state honors. He recorded 21 strikeouts over 12 shutout innings in a matchup against future fellow Nebraska star Johnny Dorn's team, a 15-inning game won by Grand Island, 1-0. He also hit .505 with 11 homers, 11 doubles and 37 RBIs as a two-way performer. At Lincoln Northeast High School for coaches Bill Fagler and Doug Kaltenberger he garnered second-team Super State honors from the Lincoln Journal Star, going 3-2 with a 3.35 ERA, as he struck out 29 in 31.1 innings as a senior. Chamberlain has one son, Karter.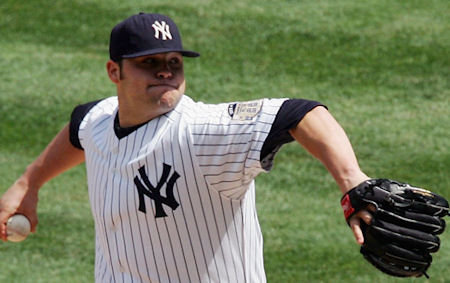 Born: September 23, 1985, Lincoln, Nebraska
Parents: Harlan Chamberlain and Jackie Standley
Children: Karter

Professional Baseball Experience

2006 Did not play
2007 Minor League with the Tampa Yankees
2007 - current Major League with New York Yankees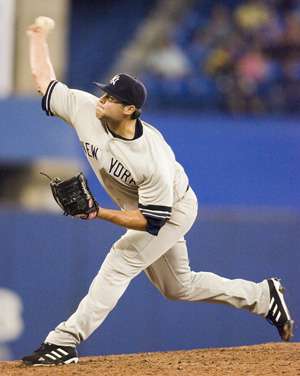 Previous Spolights

Jeff "Whitey" Richardson

Alex Gordon

Joba Chamberlain

Buddy Carlyle