Alex Gordon
By Alan Eskew
September 29, 2005

KANSAS CITY--Alex Gordon, the second overall pick in the 2005 draft, signed a $4 million signing bonus Thursday with the Royals, and by 5:30 p.m. was on a flight to Phoenix to begin his pro career.

Gordon, who was Baseball America's College Player of the Year after hitting .372-19-66 in leading Nebraska to the College World Series, will start in instructional league in Surprise, Ariz., the Royals' spring training site.

If the Royals evaluate that Gordon is ready, they hope to land him a "taxi roster" spot with an Arizona Fall League club to further his advancement after their instructional league ends Oct. 13. The Royals also have had preliminary discussions with Gordon regarding playing winter ball in Puerto Rico after the AFL ends in November to make up for the three months he sat during negotiations.

Gordon's signing leaves three prominent draft picks unsigned-No. 1 overall pick Justin Upton (Diamondbacks), No. 9 pick Mike Pelfrey (Mets) and No. 40 pick Luke Hochevar (Dodgers). Gordon signed too late to make the Royals' original blueprint-he would have reported to Double-A Wichita had he signed before the minor league season ended-but was happy to get the deal done.

"I'm a baseball player," Gordon said. "This was a business side. I just wanted to start playing, but I knew I had to take care of this. I have no regrets from what happened. I'm just excited to start playing.

"I knew it was going to get done. It is a long process, but I always stayed positive. I knew it was going to work out."

Scouting director Deric Ladnier said there "were movements on both parties." The Royals purportedly raised their bonus offer from $3.8 to $4 million with it to be paid out in four months. Gordon's bonus is the largest a team has given to a 2005 draftee, though the Red Sox guaranteed righthander Craig Hansen $4 million in a major league contract, with a $1.3 million signing bonus.

The Royals remained steadfast in not giving Gordon a major league contract and putting him on the 40-man roster. He will, however, be a nonroster invite to spring training.

"We moved. They moved," Ladnier said. "I think just basically the player realizing that he needs to get out and play was the breakthrough. The dialogue became focused on getting the player done, and concessions were made by both parties. That he wanted to go play, that's what got the deal done.

"He wanted to play for the Royals. We wanted him. It was a perfect fit. Ultimately everybody walked away pleased with the deal. The organization is pleased. Alex is pleased. Casey (Close, Gordon's agent) is pleased. To me that is the best type of negotiations when everybody walks away pleased."

Said Close, "The Royals were on a strict budget and were determined to stick to it. We had some parameters of our own we were working with. It was their ability to increase the bonus and to accelerate the payments that got it done."

Gordon was a third baseman at Nebraska and will launch his professional career at third, but he might eventually wind up in left or right field.

"He could," Ladnier said. "He's got the physical ability to go to any of the corner positions. He's got a good arm. He's got good hands. He's a good enough runner.

"But we drafted him as a third baseman. He's going to be in the organization as a third baseman. We're going to develop him as a third baseman . . . (but) the key is the development of his bat. It was no different than with Billy Butler. We had to change a position with him and put him in left field, but the bat has allowed him to move through the organization."

Butler, the Royals' top pick in the 2004 draft, was moved from third base to the outfield this season. Gordon prefers to remain at third base. "That's my goal--to play third base," he said. "I'm going to do everything in my hands possible to maintain that with hard work."

Gordon, who bats left and throws right, was a two-time All-American. In 193 games at Nebraska, he hit .353-44-189 with 43 stolen bases in 57 attempts, 53 doubles, 11 triples and 44home runs. Baseball America named him the best pure college hitter and best college strike-zone judgment for the 2005 draft and the second closest to the majors among college players.

Gordon used a wood bat as a member of Team USA in 2004, where he played mostly at first base in deference to Nationals rookie Ryan Zimmerman and hit .338-4-12 in 24 games. Gordon was the MVP as he led Team USA to the gold medal at the FISU World University Games.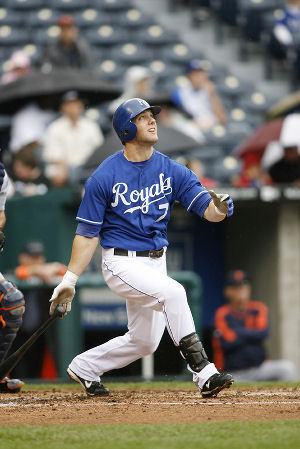 Click here for KC Royals Player File.
Born: February 10, 1984, Lincoln, Nebraska
Parents: Leslie and Mike Gordon


Professional Baseball Experience

2006-07 Wichita Wranglers (minor league)
2007- Kansas City Royals


Previous Spolights

Jeff "Whitey" Richardson

Alex Gordon

Joba Chamberlain

Buddy Carlyle